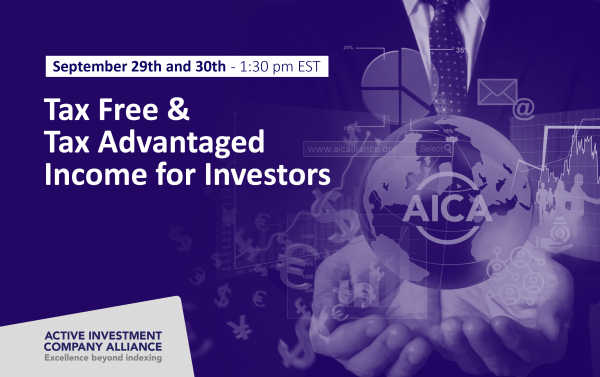 AICA is hosting a timely event focused on four fund groups with favorable tax considerations for investors that prioritize after-tax income. The event will feature a variety of high-quality speakers across two days of presentations.
The panels will discuss a variety of highly-relevant topics for investors given current uncertainty regarding changes in taxation, the interest rate environment, credit quality, and the general macro situation. The concept of return of capital (RoC) will be explored in-depth, including how it can potentially benefit income investors, particularly in relation to covered call and energy funds. There will also be an introductory presentation by John Cole Scott, CIO of Closed-End Fund Advisors and the founder of AICA, that will outline his approach to building high after-tax income portfolios for investors and advisors.
Please
LOGIN
before you register the event
Day 1: Municipal Bond Funds & Preferred Equity Funds.
Time
1:30pm – 1:45pm
Attendee Login and Networking at Virtual Tables
1:45pm – 2:00pm
Welcome by John Cole Scott with "The ABC's of CEFs – How We Build Diversified High After-Tax Income Portfolios":




2:00pm – 3:00pm
Panel #1: Tax-Free Municipal Bond Exposure Through CEFs – Update & Outlook on the Muni Market

Moderator: John Cole Scott, Founder & Executive Chairman, CIO – AICA, CEFA


Presenters:

Stephen Candido, Portfolio Manager – Nuveen

John Lawlor, Managing Director – MacKay Shields

Robert Amodeo, Head of Municipals – Western Asset Management

Matt Cody, Client Portfolio Manager – Amundi

3:00pm – 3:20pm
Networking Break
3:20pm – 4:20pm
Panel #2: Using Preferred Equity to Diversify Your Taxable Income Portfolio

Moderator:  Michael Spatacco, Director, Cash Management – BanCroft Capital

Presenters:

Brenda Langenfeld, Portfolio Manager – Nuveen

R. Eric Chadwick, President – Flaherty & Crumrine Incorporated

Brian Cordes, Senior Vice President – Head of Portfolio Specialists – Cohen and Steers

4:20pm – 4:25pm
Event Closing Remarks – John Cole Scott – AICA's Founder & Executive Chairman
4:25pm – 5:00pm
Post Event Networking with Speakers, Sponsors, Members and Fellow Attendees
Day 2: Covered Call Funds & Energy / MLP Focused Funds
*This session is a last-minute replacement session at the event and the speaker is still getting firm approval to speak.